?

ULTRA-THIN WITHOUT RESTRICTIONS PERFECT FOR SUMMER DAYS!
The ultra-thin Ice Silk seamless bra offers you a flexible fit and total comfort!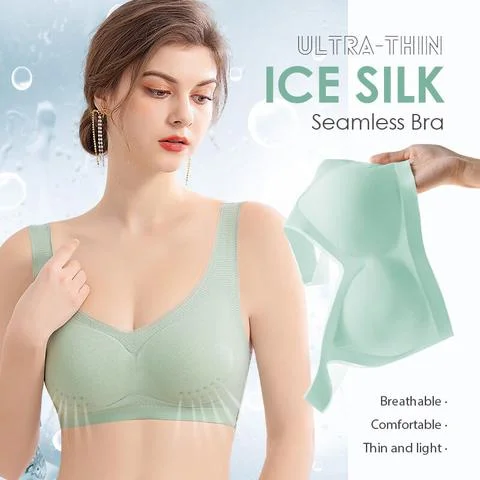 |?Pull closure
|?Ultra-thin breathable fabric
|?Feels like wearing nothing
|?Flexibility with comfortable support
|?3-way hook-and-eye back closure with adjustable straps
|?Various color options
|?Suitable for people between 40-150 kg.
? ? ? ? ? ? ? ? ? ? ? ? ? ? ? ?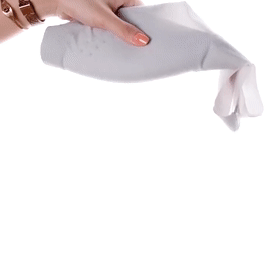 This is my favorite comfortable bra, suitable to wear when I'm not well dressed and at the same time I don't want to look like a bum.?Most non-wired bras will make your breasts look awkward, loose or sagging.?This bra provides a nice shape without shrinking at all.?The strap stays in place.?I've bought one from this store and I like it a lot, so I'm coming to buy a few more in case they stop production!
-Kelly??M. Bohl
DESCRIPTION
? Everyday Bra
Wide elastic straps and wide band hem provide support for your bust, best choice for low-impact sports and daily wear, liberated for your breast.?It can be a sports bra, yoga bra, workout bra, dance bra, sleep bra, daily bra, everyday bra.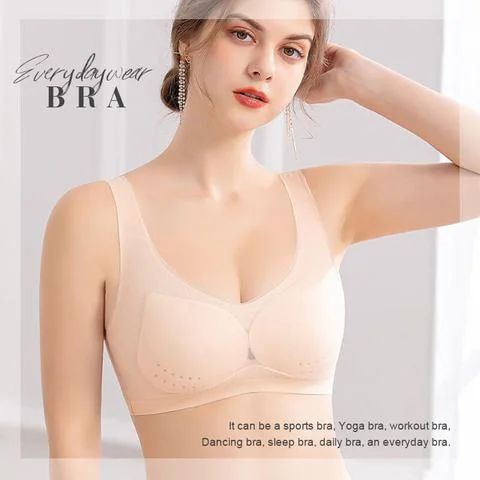 ??High quality fabric
Made of ice silk fabrics, it will give you a silky touch, cool and skin-friendly.?It's breathable, soft, stretchy and moisture wicking, giving you the feeling of not wearing a bra.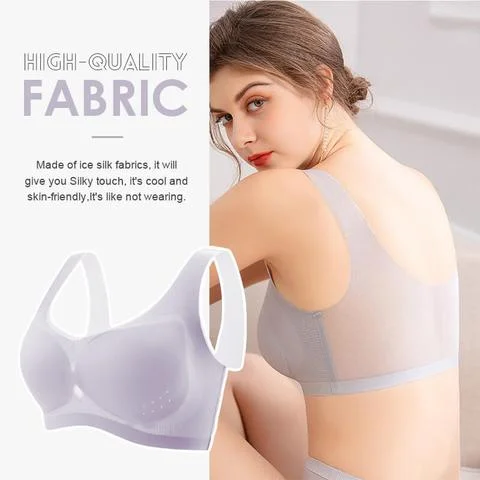 ? Incredible Comfort
This may be the most comfortable bra you'll own.?No buckle, wireless, 360 elastic back.?Women's super soft and lightweight casual wireless bra, making you feel like you're not wearing anything.?Casual ice silk wicking fabric bra keeps you cool and gives you a touch-free experience.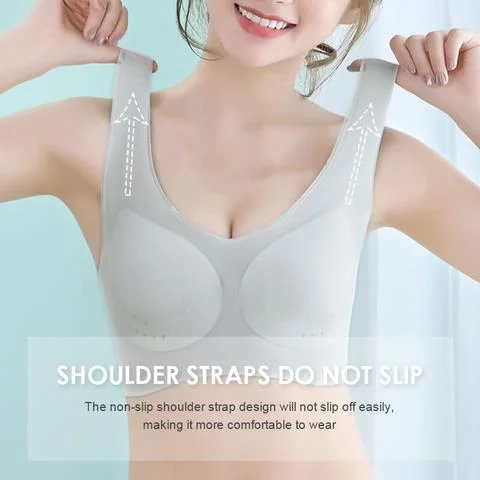 ? Applied Stretch
This ice silk seamless ultra-thin bra has higher elasticity and is full of elasticity.?It is not only suitable for small women, but also for women and girls with large breasts, without being tight.?(40-150kg)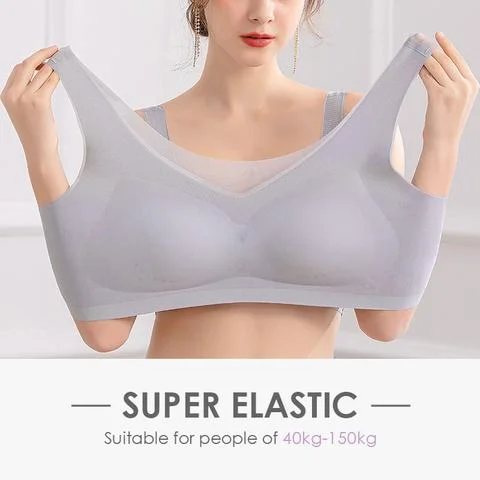 ? Removable 3D-Cup Pad
Removable inserts, without steel ring.?Unlike the rigid circles typical of most bras and sports bras, the padding on this pullover bra has many small, soft, breathable air holes.?One-piece design helps shape and lift the breasts.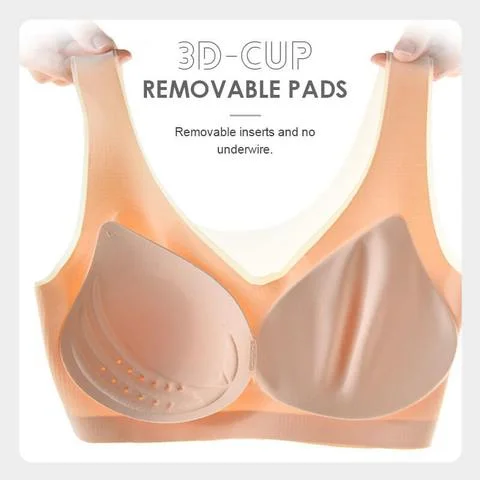 SPECIFICATION
? Fabric: 75% Polyester 25% spandex
? Mold Cup Type: Thin Mold Cup
? Size: M, L, XL, 2XL, 3XL, 4XL, 5XL
? Weight: 95-125g/pcs
? Color: Grey, Green, Blue, Black, Knot Color

? Package included:
1 Seamless Ultra-thin Ice Silk Bra