Get The Ambient Lighting You've Always Wanted For a Fraction of The Cost
Our specially designed FiberGlow is the perfect ambient lighting solution for anyone who doesn't want to spend thousands. With its simple installation and customizability, we believe our lighting kit isn't only inexpensive- but better!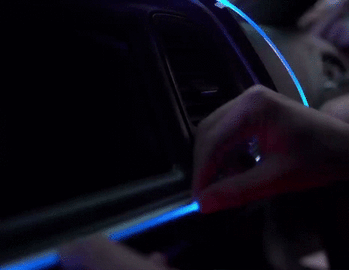 Turn Any Car Into an Instant Vibe
Whether you drive a Honda, Toyota, or whatever it may be- you deserve the luxury of ambient lighting. It brings an aesthetic look and feel to your car that you're not used to, and you'll find yourself wanting to be in your car.
Easy to Install & Easy to Use
Our ambient lighting kit consists of a six meter long, optic fiber light strip which is powered by either a cigarette lighter or USB and fits perfectly between the seams of your vehicle. You can simply cut the cord into multiple pieces to fit your needs!